DIY NO-SEW Spider Costume!
Halloween is approaching and this will be an interesting time of the year! Covid please go away. Back on topic…I know our little ones get so excited for pumpkin carving, candy and costume picking! I'm not sure what we'll do this year, but I know he'll want to dress up. My boy can be a stickler and very demanding and stubborn about his costumes. Last year he really wanted to be a hermit crab, but I didn't have time for a complicated project like that… and it doesn't exist on the internet (or at least when I searched). Then he changed his mind to a worm and nothing shook that idea from his head for a while. So I bought a huge pink onesie that had thin white stripes and figured I could transform it. When I presented my idea to him, he wanted to try it on first, to test his slither. The funniest thing I've ever seen! However, once he removed it, he handed it back in disapproval saying it wouldn't work. At this point I wanted to give up and say he had no choice but to pick one from the store. We finally decided on a spider! If your little one is obsessed with bugs as much as Pierce, then here's an idea for you. Luckily it was easy and quick and hope you think so too. Once I bought the material, it literally took me no more than an hour.
Spider Costume Details:
Materials:
Mask:
I went to Michael's and bought a mask for 1$ and different size wiggly eyes. The Wiggly eyes were all randomly hot glued onto the mask. Done.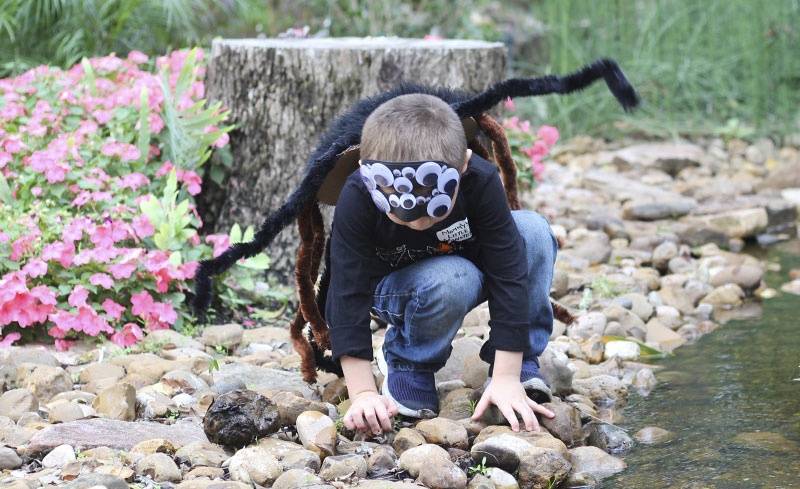 Body:
First, I cut out a large circle from cardboard that covered my boy's back. Then I cut out a second circle a little bigger than the first (also from cardboard).
Using the smaller circle, I attached the arm straps. I made the mistake of forgetting to add them and had to carefully attach them without destroying the body in the end. At the time I was making this, we had just moved into our new home. I hadn't transferred everything, and didn't have my craft supplies…so I had to be creative with what I had. I had hair bands hahaha. The stretchy "one size fits all" kind, and they worked! You could also use ribbon or shoe lace, but I found the hairband worked great because it was stretchy and moved with his busy little body. I believe I tried stapling the hairbands but was unsuccessful with keeping them in place. So then I tied them onto the cardboard (Maybe you'll have a better idea).
On the opposite side from the arm straps, you'll want to hot glue the spider arms into place. I cut the giant Pipe Cleaners into 4 sections each, with a total of 8 legs. Be generous with the glue because these things are going to be swaying and hitting everything. Kids don't think about perception sometimes hahaha.
Last, using the large circle, we'll create a dome for the body. If you look at the image below, you'll see I cut about 6 darts into the larger circle. Bend the cardboard along the dotted lines to create a dome and bring the dart edges together using tape (Refer to tip #1). Try to align the edges of both circles using tape to hold them in place. You may need to trim edges to align circles. Hot glue the dome to the smaller circle on the side that the spider arms were attached (Refer to tip #2). Once attached, starting from the top center, I began to spiral the feather boa around the dome till it was completely covered (also using a hot glue gun).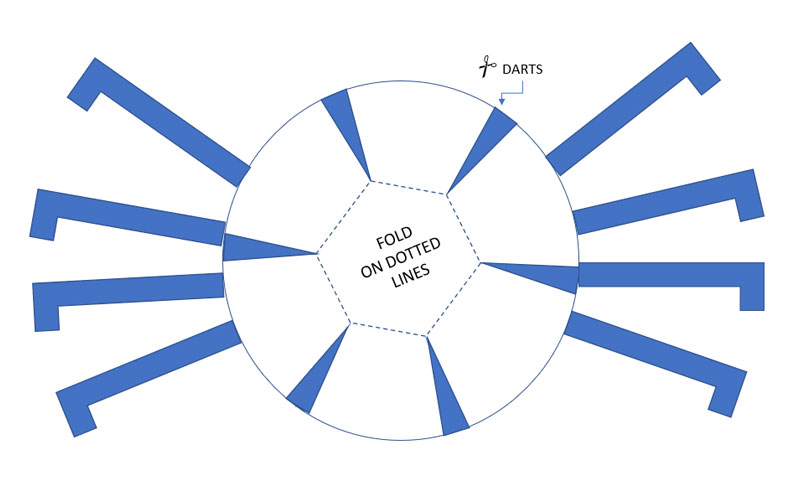 And you're done!!! Hope your little one enjoys Halloween and uses his spider senses for any Halloween tricks!
Tip1:
If a large semicircle Styrofoam exists, you can even use that as the dome and save you some time! But I haven't researched to know if it exists…
TIP 2:
I didn't do this because it was so last minute, but you can place Styrofoam under the dome so that it can keep its shape in case they fall on their back haha.